Welcome to the wiki that is everything Mumford & Sons related. Great wiki for a great band. I welcome anyone and everyone to add what they know that isn't already here.
Mumford & Sons
Edit
Mumford & Sons are folk four-pieced band from London who are all in their early 20's. They started back in 2007 and have been heavily involved in the "Folk Revival" in London. Mumford & Sons consists of Marcus Mumford (vocals, guitar, drums, mandolin, tambourine), Country Winston (banjo, dobro, vocals), Ben Lovett (keyboard, accordion, vocals), and Ted Dwane (bass, vocals, occasional drums). Mumford & Sons have been voted one of the Best Indie-Folk Bands . Marcus Mumford is not the father of Ted, Winnie and Ben as once it was stupidly mistaken.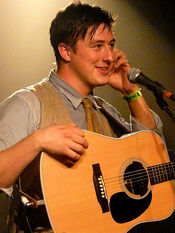 Marcus Oliver Johnston Mumford (born January 31, 1986) is lead vocalist and instrumental man of English folk band Mumford & Sons. He has been a part of the band ever since they started back in 2007.
Mumford plays a variety of instruments, including guitar, banjo, drums, accordion, mandolin, and a glockenspiel (tambarien too) However, his voice is the true sound of brilliance. Read more


Loading RSS data...
Loading RSS data...

Create blog post
Awesome news, Mumford & Sons fans! According to the Official Charts Company, Babel is so far 2012's fastest selling album with an impressive sales tally of 159,000 copies!!

It is supposed to sell up to 625,0000 copies, which beats out 2012's previous t…

Read more >
See more >

What do you think of Mumford & Sons' new album, Babel?